For those unfamiliar with Coppola e Toppo Jewelry, it is the pièce de résistance (or pezzo forte in Italiano) in Vintage Costume Jewelry. The creme de la creme, the equivalent to Vintage Emilio Pucci and Valentino Couture. Their jewelry is some of the most revered and insanely collectible pieces to have ever emerged from the Costume Jewelry Golden era. True Vintage Coppola e Toppo jewelry command upwards of one thousand dollars per piece. So the next time you're around someone who thinks vintage costume jewelry is crap, just whip out your Coppola e Toppo knowledge and that should shut them up; at least for a few hot minutes until you tell them that many Coppola e Toppo pieces were made from plastic beads, that's right PLASTIC!!!
Now I happen to be a HUGE, I mean HUGE collector of not only Vintage Plastic and Lucite Jewelry but also of Vintage Lucite and Plastic Beads which will be a whole other blog post, but there is a definite difference. Today's plastic beads that are made in China pale in comparison to the quality of vintage plastic and lucite beads.
The Coppola e Toppo company was formed in the late 1940's by the brother and sister designer duo, Bruno Coppola and Lyda Toppo in Milan, Italy. It's hard to imagine now but it took a little bit of time for their jewelry designs to take off. Eventually the fashion houses of Dior and Balenciaga utilized Coppola e Toppo's designs sporadically throughout the next decade for some catwalk and retail line pieces.
Then along came Miss Elsa Schiaparelli who commissioned Coppola e Toppo for a line of faux coral bead jewelry entitled "Bijoux Voyages". It was this line that launched them straight to the top of the upper couture fashion echelon as Pucci and Valentino then followed with more commisions. This enabled Coppola e Toppo to increase the number of their jewelry designs under their own trademark, "Made in Italy by Coppola e Toppo"…. The rest is history.
Each piece is literally a work of art, as you can see in the Vintage Pink Festoon necklace, 1964 Coppola e Toppo for Emilio Pucci.
via In Style (see below).
What makes them so special is from the moment you lay your eyes on a Coppola e Toppo Piece they demand attention. This of course was their intent: to make big, bold, statement couture pieces and they most certainly succeeded in their mission. You cannot take your eyes off of them, they draw you in, and they dazzle you like a hypnotic beaded menagerie. You don't know where one strand ends or another begins, it's like an endless kaleidoscope loop of stunning beadery.
The designs themselves to a trained jewelry designer's eye are not that complex, there was no soldering involved, not even that many different beads are used, but their end result is in your face grandiose magnificent jeweled genius. I'll never forget the first time I saw them, I had just started collecting vintage costume jewelry and bought the book Costume Jewelry by Judith Miller and fell head over vintage heels with Coppola e Toppo.
Coppola e Toppo continued designing jewelry throughout the 1960's, then in 1972 Coppola e Toppo was absorbed into a larger Italian company which continued producing pieces until 1986.
I literally scoured the internet trying to put together an impressive amount of Coppola e Toppo images showcasing their amazing talent and contribution to the now vintage costume jewelry world. At the end you'll see a Haute Tip about Coppola e Toppo to add to your Jewelry Collecting Playbook!!!
Up Next, is one of Haute Tramp's Coppola e Toppo Necklaces currently up in our boutique…….
Couture Coppola e Toppo Green Italian Beaded Bib Necklace, circa 1960's, Haute Tramp click here to take a peek!!!
Silver Leaf Collar Necklace, Coppola e Toppo, circa 1960's
The architectural malleable design of silver tubes with clear rhinestone conclusions mounted on multifaceted metal bead grid, 6 x 16 inches, marked: Made in Italy/Coppola e Toppo, Sold for $16,000 via live auctioneers

Green and Purple Cosmic Crystal Beaded Menagerie Bib Necklace, Coppola e Toppo, ca.1964, via zsa zsa bellagio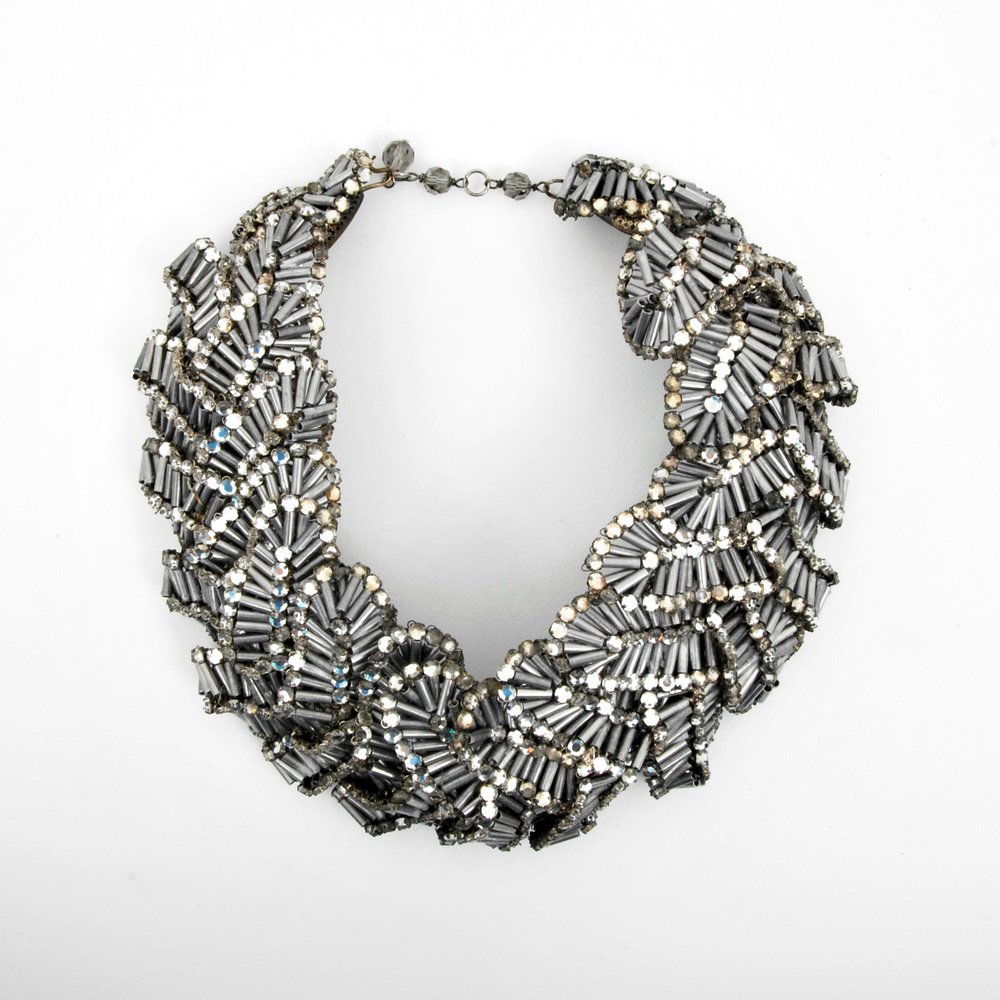 A chrome gunmetal bugle beaded leaf necklaces accentuated by mini crystal rose montee sew ons…..all done by hand. Swoon!!!
Coppola e Toppo Faux Rhinestone Spray Suite, ca. 1960's
Comprising a collar and two bracelets of faceted clear bisected plastic beads disgorging multiple irregular fine wire appendages, each applied with a round and a square bissected bead, the necklace 15 x 7 1/2 inches, the bracelets 7 1/2 x 5 inches, marked: Made in Italy by Coppola e Toppo. Sold for $11,600 via Doyle New York
Gorgeous Emerald Green Glass Beaded Bib Necklace by Coppola e Toppo, ca 1960's via live auctioneers
Coppola e Toppo Vintage Baguette Four Row Bracelet, ca. Late 1960's
Feeling in the mood for something eye-catching? This late 60's Coppola e Toppo bracelet features four rows of baguette style rhinestone rods backed by a signature sheet of round white metal beads. To finish the look, a striking geometric closure: prong set faux sapphires and rhinestones hug a dazzling red stone. $1500, via pop sugar
Vintage Coppola e Toppo Italian Beaded Collar Necklace, ca. 1960's
Vintage Coppola e Toppo jewelry is the ultimate in beaded designer pieces that came out of Italy in the 1950s and 1960s. Coppola e Toppo was a sister and brother design team in Milan Italy who designed jewelry for some of the most famous fashion houses including Schiaparelli, Christian Dior & Valentino. Neiman Marcus in the US sold this jewelry, as did other high-end stores. Coppola e Toppo is known for elaborately beaded crystal jewelry in bold designs. The beads could also include Murano glass & Swarovski crystals. via mid century jewelry
Beaded Blue Necklace with Giant Pink Beaded Flower Focal by Coppola e Toppo, ca 1960's, via clerestorial
A Pair of Coppola e Toppo Shoulder Duster Crystal Earclips, ca. 1960's
via live auctioneers
Coppola e Toppo Beaded Bracelet for Valentino, ca. 1967

Black Bugle Beads Combined with square Montana Blue and Clear Glass Bead-Ons swirl to create an edgy piece with flair.

via Vogue Italy
Purple and Blue Lucite Flower Beaded Parure,Coppola e Toppo ca. 1969-1970, via Vogue Italy
Brown Earth Toned Bugle Beaded Parure, Coppola e Toppo for Valentino, ca 1967, via Vogue Italy
Topaz Faceted Spiral Swirl Necklace, Coppola e Toppo ca. 1962, via Vogue Italy
That concludes the wondrous world of Coppola e Toppo Jewelry showcase for today!!! If you would like to see more Coppola e Toppo images be sure to check out Haute Tramp on Pinterest!
The Haute Tip for today I learned awhile ago but got a refresh over at Bitz of Glitz, a spectacular costume jewelry reference site and gorgeous jewels as well!!!
Haute Tip: Early 1940s Coppola e Toppo pieces are signed Mikey (their pet dog)
So if you are ever out and about and happen to see a piece of jewelry signed Mikey and the price is right, buy it faster than you can say Coppola e Toppo!!!